The 7th Annual PFP Family Matters Conference will take place at the University of the Sciences in the McNeil Science and Technology Center on Saturday, October 29, 2016. Please save the date.
We are very excited to announce that our keynote speaker will be the out poet, artist, writer, activist and performer Staceyann Chin, pictured here with her daughter Zuri.
COLAGE will be providing all day programming and teen panel prep for those ages 7-18. (Your family may know them from Family Week in Provincetown.) We will also have onsite child care for infants and kids under 7.
Programming schedule for adults and registration coming soon.
To become a sponsor at one of the following levels, please fill out this form.  All levels include a vendor table at the event. For more details, follow the link.
Premier – $2500
Platinum – $1000
Gold – $500
Silver – $250
Bronze – $125
Thank you to these first sponsors for this year's conference (as of 8/26/16):
PREMIER:
PLATINUM:
GOLD:
DC Berman Law
Dennis Debiak, Psy.D., Licensed Psychologist
Turning Points for Children
SILVER:
Donor Sibling Registry
The Philadelphia School
****************************
Philadelphia Family Pride sponsored our 6th Annual Family Matters Conference for LGBTQ parents and prospective parents on Saturday, October 17, 2015 from 9:00 a.m. – 4:00 p.m. at the main campus of The Children's Hospital of Philadelphia at 34th and Civic Center Blvd. in Philadelphia.
Click here for the full schedule and workshop information.
This one day event is a great chance to network, share information and get some concrete advice from LGBTQ parents, attorneys and other professionals during workshops and panels. It's also a great chance for kids with LGBTQ parents to interact during fun crafts, games and activities. As with all our events, PFP also welcomes non-LGBTQ allies.
The theme for 2015 was "Mind, Body and Soul: Taking care of ourselves and our families." Workshop sessions ranged from "Demystifying Meditation and Mindfulness" to "LGBTQ Parents Guide to Choosing Providers for Your Family" to "Intersectionality: Race, Sexuality and Faith" to "LGBTQ Fun Family Vacations and Outings."
New this year was a "Treat Yourself" room where parents could unwind and recharge for a whole hour: some got a chair massage, tried acupuncture, colored or just relaxed and chatted with other parents with similar aged kids.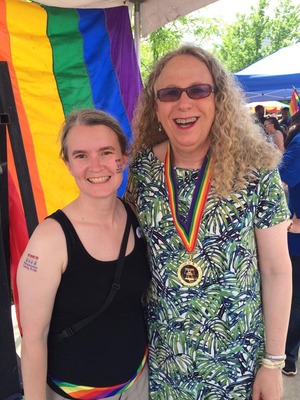 The keynote speaker was the fantastic PA Physician General Dr. Rachel Levine. Dr. Levine is the highest ranking out transgender woman in Pennsylvania's state government and was honored at this year's Philly Pride as the parade's Grand Marshal. (Pictured right with PFP Director Stephanie Haynes.)
There was be onsite child care for kids 0-7.
For kids 8 and up, there was also the opportunity to participate in a tour of the Ryan Seacrest Studio at CHOP and take part in "Tweens and Teens Preparing to Act Out" workshop with Theresa Randall, M.Ed. where kids  prepared and performed a short "Know This About Me" performance.
In addition to representatives from many of our sponsors (see below), there was also a pop-up exhibit by Speaking OUT: Queer Youth in Focus.
We were also excited that 6ABC weatherman and gay dad Adam Joseph and his family attended the conference this year!
Finally, we were thrilled to give away an overnight stay package at the Philadelphia Hotel Monaco, donated by Kimpton Hotel. Board member Sandy Gilardi won the prize!
2015 Conference Sponsors


PLATINUM
American Reading Company
Philadelphia Gay News
RMA at Jefferson
GOLD
David C. Berman, Esq.
Dennis Debiak, Psy. D.
Giampolo Law Group
Healing Arts Center of Philadelphia
H.E.A.L. Philadelphia
Jerner & Palmer, PC
Mazzoni Center
Surrogate Services International
Yikes Inc.
SILVER
A Baby Step Adoption
Camp Highlight

Donor Sibling Registry
Equality Pennsylvania
Full Living: A Psychotherapy Practice
Germantown Friends School
Therapy Center of Philadelphia
The Philadelphia School
BRONZE
Adoptions from the Heart
Carson Valley Children's Aid
Freedom to Feed
Gay Parent Magazine
Gays With Kids
Dr. Paula Estornell and family
Fairfax Cryobank
Matthew Palczynski, realtor with Berkshire Hathaway Home Services, Gladwyne
National Adoption Center
Prudential Insurance Company of America
Walnut Psychotherapy Center
William Way LGBT Community Center

Conference History:
The conference was first held in 2010 at the Bryn Mawr School of Social Work and Social Research and offered 20 workshops for attendees, as well as a kids zone.
In 2011, our second annual conference was sponsored by Widener University and Widener's Center for Social Work Education and the Graduate Program in Human Sexuality. There were 18 workshops and panels during the day, including an Ask the Experts! Teen Panel during lunch.
In 2012, our third annual conference was sponsored by Arcadia University School of Education, the Graduate Program in Counseling Psychology. The theme was "Welcoming Schools" and the keynote speaker Graciela Slesaransky-Poe. We offered 13 workshops and panels, including ones specifically for educators.
In 2013, our fourth conference was held at the William Way LGBT Community Center. The theme was "Telling Our Stories" and the keynote speaker was kids' book author Cory Silverberg.
In 2014, our fifth conference was held at The Philadelphia School. The theme was "Our Families and the Future" and they keynote speaker was Mary Anders.
In 2015, our sixth conference was held at The Children's Hospital of Philadelphia. The theme was "Mind, Body and Soul: Taking care of our ourselves and our families."